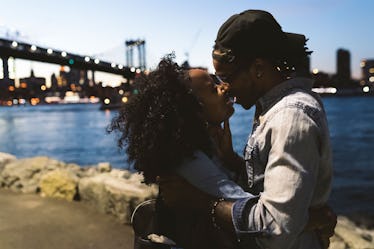 5 Questions About Their Past To Ask On A First Date That Aren't Uncomfortably Personal
Going on a first date is somewhat of a time-honored tradition amongst young adults, as well as one that can end in disaster or triumph. Basically, everyone I know has a story of a first date gone awry, or one that has resulted in a life-long partnership. Either way, first dates are a universally awkward experience, and they can be totally nerve-wracking. If you're wondering which questions about their past to ask on a first date are acceptable, then look no further. There are plenty of hacks for making first dates less uncomfortable, like asking questions to spark conversation.
If you're on a first date and genuinely like the person you're with, you might find yourself starting to daydream about what a future together might look like. Not all first dates are bad, and asking your date about their past can be a great way to discover more about what makes them tick, as well as what they might be looking for in a relationship.
At the same time, it's best to be careful about prying, or making your date uncomfortable — after all, this is only a first date. So, what questions should you consider asking about your date's past? Read on!