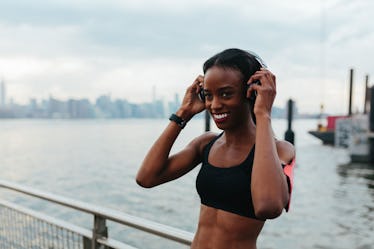 Lose Yourself In One Of These 5 Podcasts During Your Workout & You'll Be Done In No Time
No matter how much you love to work out, there's no denying the fact that sometimes, it can get a little, well, boring. Perhaps you find yourself counting down the minutes until you can get out of the gym, or zoning out on your phone when you should be moving on to your next workout. The fix for this? Keeping your mind on fire with some podcasts for your workout. Trust me, even if you don't really consider yourself a "podcast person," it's a trick worth trying when your workout routine feels stale.
Whether you're tuning in to learn more about the wellness or fitness kick you're on right now, nerding out with some of your favorite artists, or just following a story that's going to have you laughing, crying, or gasping in disbelief, there are rad shows to listen to out there for everyone.
Below are some of my favorite podcasts to give you some inspiration and help you explore your own interests. Trust me, they'll help your workout feel more like a breeze than a pain, and before you know it, you'll be enjoying that delicious post-workout snack waiting for you at home.