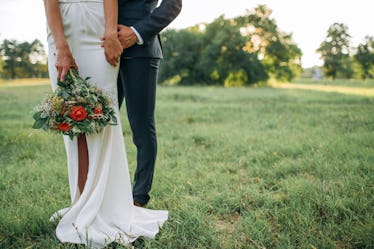 5 Military Wedding Traditions That Are SO Beautiful
It's no secret that weddings are steeped in tradition. From wearing something blue to exchanging rings and tossing the bouquet to hopeful singles, many of the practices we witness at these events have been passed down for decades or even centuries. But did you know that there are special military wedding traditions that only couples in the armed forces abide by, too?
Indeed, wedding traditions vary depending on the culture and religion. Some couples choose to forgo them entirely. In the U.S, it's customary for the bride to have her father walk her down the aisle, and for the couple to save the top tier of the wedding cake to enjoy on their one year anniversary. In Armenia, the bride and groom kick off the wedding reception by breaking a plate, balancing some lavash (bread) on their shoulders and eating spoonfuls of honey for good luck. In Greece, the best man shaves the groom's face on the day of the wedding — and later, the groom's mother in law feeds him almonds (sounds delightful, TBH).
In the same way that other cultures have their own unique traditions, so do military weddings — whether one or both spouses are currently enlisted or have previously served. Each branch even has some of its own set of unique traditions. Unsurprisingly, for example, it's very common to see patriotic decor at a military wedding reception or to play the service branch's song in the recessional. And sometimes, the wedding cake topper will feature the spouse(s) in uniform.
In order to honor their heroic work, here are some of the other special wedding rituals that are practiced by those in the armed forces.