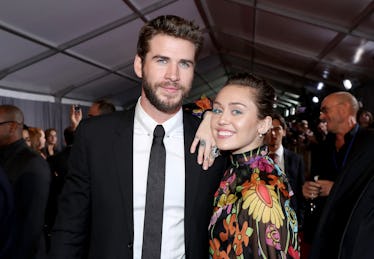 5 Miley Cyrus & Liam Hemsworth Couples Costumes To Rock With Your SO This Year
Rich Polk/Getty Images Entertainment/Getty Images
It's hard to find a Halloween costume that's fun, cute, topical, and makes you look amazing. Finding a couple costume that hits all those requirements is damn near impossible. Instead of trying to put a creative spin on ketchup and mustard, try going a different direction and stunt on Halloween night as a power celeb couple. You can't do much better than Miley Cyrus and Liam Hemsworth Halloween costumes. You and your significant other will look amazing and you can't get much cuter than... Miam? Liley? WHAT DO WE CALL THEM?
Rumors first started about their romance in 2009 after they filmed The Last Song together. Since then, they have publicly dated, gotten engaged, broken up, and everything in between. Hemsworth and Cyrus are definitely happily together. Cyrus even wrote "Mailbu" about their relationship, which is couple goals AF. Celebrate their love and the love you share with your SO with the following costume ideas. Below are five Miley Cyrus and Liam Hemsworth couple costumes that you can put together with just a few items.
1. Ronnie And Will From The Last Song
Iconic. Truly one of the greatest pieces of cinema. Ronnie and Will had their ups and downs, but you can't deny that you wanted them to come back together. We'll ignore the fact that these two seemingly normal teens attend Vanderbilt and Juilliard — like, can I see your acceptance letter? While there are a lot of great looks from The Last Song, the closing scene is the most memorable. It's also inexpensive to put together with easy pieces of clothing.
For Hemsworth:
Mmmmm. Hemsworth was going hard with the deep V. How 2009 of him. Luckily, deep V-neck shirts are very cheap. The one above is American Apparel and only $8.
I LITERALLY HATE MYSELF FOR SAYING THIS, but you're going to need a pair of cargo shorts. Hemsworth was living HARD in 2009 with these babies. Stores apparently still sell bountiful amounts of cargo shorts. You can pick up the ones above at Target for less than $23.
As a favor to me, please just burn them when you're done.
For Cyrus:
Cyrus' character also loved her a deep V-neck shirt... and layering. The base starts with a simple grey tank. The tank above is $8 at Target. Even if you're not choosing this costume, that's a steal.
Next, layer this white T-shirt over the tank. Like the grey tank, it's a great basic piece that you won't regret having in your wardrobe. The T-shirt above is $16 from Gap. Pair these two tops with your favorite jeans and you will look so Ronnie-esque.
The most important detail for this Cyrus/Ronnie costume is the macramé bracelet that Will gave Ronnie. Obvi, Ronnie's said IMTF (in my thoughts forever). Romantic AF. If you don't want to be that extra, the bracelet above is available for $11 on Etsy.
2. Post break-up Cyrus and Hemsworth
We all know there was a very dark time when Cyrus and Hemsworth split, and we were all afraid it was for good. Take this horrific time and turn it into a positive by creating an amazing Halloween costume.
Create your best "Wrecking Ball" Cyrus and Hunger Games Hemsworth.
For those of you trying to nitpick my timeline of Hemsworth being in Hunger Games and breaking up with Cyrus... JUST BE COOL, OK? It all happened around the same time. Look at the screengrab above — Hemsworth clearly wasn't happy.
Side note: Be sure to take amazing pics of you two fighting and making up.
For Cyrus:
"Wrecking Ball" is such an iconic Cyrus look. Basically, everyone dressed up as Miley Cyrus in some capacity in 2013 — now it's your turn to bring it back. The best part: No one will steal your thunder this year. Start with a white tank. The simple one above is $6 from H&M.
If you don't want to wear undies, I understand. Opt for these white spandex shorts for a little more coverage. The shorts above are from BDancewear, score them for less than $20.
Cyrus completed her all-white "Wrecking Ball" look with brown combat boots. If you don't already have a pair, WHY DON'T YOU HAVE A PAIR? I'm here for you. For less than $30, the pair above from Macy's can be all yours.
No "Wrecking Ball" costume is complete without a sledgehammer. While a real one would be very heavy and dangerous to carry around, the one above from Spirit Halloween is made of foam and only $12.
For Hemsworth:
Hemsworth played Gale Hawthorne in The Hunger Games film series. The person being Hemsworth has it easy because you literally just need a grey or light-blue button down shirt like the one above from JCPenney for $22.
Pair it with jeans or khaki pants. This is the OG Hunger Games where Hemsworth doesn't do too much. HE WAS GOING THROUGH A HARD TIME WITH THE BREAK-UP.
3. 2017 Red Carpet Hemsworth and Cyrus
Hemsworth and Cyrus are on the top of their couple game. Goals AF, really. I've seen pictures of this cute red carpet look from the premiere of Thor: Ragnarok errywhere. Cyrus' flowered dress mixed with Hemsworth's simple suit is such a great representation of their personalities.
For Cyrus:
This flower print, bell-sleeve dress is so bright and fun. It's available at Target for less than $43. Wear your hair up and rock some funky blue eyeshadow to really get into the Cyrus spirit.
For Hemsworth:
If you are planning to go as Hemsworth, but don't own a suit (or don't want to spring for one) just go with a jacket. Pair it with black jeans and you'll still have a great look. The blazer above from Macy's is $65.
Real talk, you or someone you know should own a black tie. If not, snag one from Amazon for $9.
If you're putting together this Hemsworth look on a budget, the white button down shirt is available from Old Navy for $14. So easy.
4. Holiday Pajama Party
If you follow Hemsworth or Cyrus, or any member of the Hemsworth family, you know that they love a good holiday-print onesie. Every year, the entire family is down for the cause.
Capture your inner Hemsworth and Cyrus with this cozy costume. It's fun to match with your SO, and you'll be so, so warm.
Tipsy Elves is basically the best thing to happen to holiday clothing. They have the cutest PJs and sweaters.
Plus, everything comes in men's and women's sizes. Both are available online at Tipsy Elves for $78.
5. Malibu Cyrus and Hemsworth
This could be my favorite Cyrus and Hemsworth look. It's so beachy and chill. Cyrus admitted that "Malibu" is in fact about Hemsworth, so that adds another level of cuteness.
Obviously, I realize Hemsworth wasn't wearing his beachy-keen outfit the same day Cyrus was wearing her signature "Malibu" look, but he really should have been. I think these two outfits blend better, anyways.
For Cyrus:
Cyrus' wide brim hat is key. It's really the topping on the "Malibu" cake. Grab the hat above for less than $30.
This look can be done in a variety of ways with a plethora of different items. As long as your hat, shirt, and shorts are white — you're good to go. The flowing off-the-shoulder shirt above is less $29 at Gap.
Don't overthink a basic pair of white shorts. The high-waisted pair above are $10 from H&M.
For Hemsworth:
I like this outfit for the Hemsworth side of the costume because you and your Cyrus can rock similar hats. Hats are always more fun when worn in pairs. The wide-brim fedora hat above from Target is $16.99.
Get your "Malibu" vibes with a beach shirt. Any funky pattern will do, but bonus points if it matches your hat. The shirt above is $20 at Macy's. It really doesn't get beachier than that.
Complete your Hemsworth costume with a dope pair of sunnies. Hemsworth's thick-rimmed aviators probably cost a few hundred bucks IRL, but the pair above from Amazon are only $20 and make a pretty good dupe.
There you have it. Five Miley Cyrus and Liam Hemsworth costumes that are easy to pull off with your SO. Plus, they're relatively inexpensive and super cute. TBH, the option to wear pajamas on Halloween is good enough for me.
Check out the entire Gen Why series and other videos on Facebook and the Bustle app across Apple TV, Roku, and Amazon Fire TV.