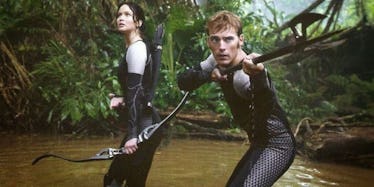 A 'Hunger Games' Theme Park Is Coming To Times Square, May The Odds Be In Our Favor
Lionsgate
Both the movie series The Hunger Games and the TV show Mad Men have been over since 2015, but that doesn't mean either has faded from popular culture. Fans of Panem's dystopian world are an especially active group, enough so that Lionsgate, the production company that made the films, is considering a new line of movies set there. But until then, we've got something else to keep us District 1 residents entertained: the Hunger Games Times Square attraction, which will be opening in 2019, along with a Mad Men attraction and a John Wick one, in New York City.
If these three worlds seem really disparate, you're not alone. It's all a bit of a mish-mosh, linked only by the fact that Lionsgate is owner to the rights. The actual space will be called Lionsgate Entertainment City and will be an indoor attraction, populated with interactive games and simulators featuring some of their most well-known franchises and brands. Somehow, we feel like the late President Snow would be very pleased to see such creativity in keeping the attentions occupied and urges to rebel by those who live in the city sated.
So how exactly will a Hunger Games "interactive experience" work? Does one get to compete in the games?
Thankfully, no, nothing quite so tone deaf or ghoulish as all that. In fact, the Hunger Games game will have nothing to do with the actual Hunger Games. There will be no lottery, no volunteering as tribute in place of family members, and no fiery dresses.
Instead, the game will focus on the rebellion against the Capitol that happens in the final movie, as those from District 13 go against the booby traps that are designed to be much like the ones players faced inside the game, with just as many deadly consequences, and will include a "flying simulator." No word if at the end we will discover it's all a ploy by President Coin or not.
For those who also want to eat like a Panem local, there will be stops at Peeta's Bakery and The Capitol Confectionary for lunch and dinner. No word is Peeta's Bakery comes complete with little boy bringing out burnt ends of bread for a starving little girl lying in the mud. We will assume that The Capitol Confectionary tables will be made of mahogany.
As for the other attractions, the Mad Men one will be a bar. (Of course it will be a bar! And probably only serve old fashions.) According to the description, it will "showcase a Mad Men-themed dining and lounge experience, giving fans an authentic taste of the show's 1960s décor." I assume that means visitors aren't dressing for dinner. The John Wick one will be a shoot-em-up game/ride, because of course it will.
Lionsgate is very excited about their clever bid to continue turning Times Square into the weirdest, most surreal Disney World this side of the Hudson. In the press release, Lionsgate Senior Vice President of Global Live and Location Based Entertainment Jenefer Brown gushed:
We're delighted to kick off our partnership with Parques Reunidos in midtown Manhattan, and we look forward to extending our alliance to other major U.S. and European cities as we continue to grow our location-based entertainment business around the world. Lionsgate Entertainment City celebrates so many of our greatest film and television properties and provides their fans with a unique immersive experience featuring state-of-the-art technology right in the heart of the city.
For Hunger Games fans overseas, don't worry, this is only the first of several planned "Entertainment Cities." There are more they are looking at building in Europe, Asia and the Middle East. May the odds be ever in your city's favor.