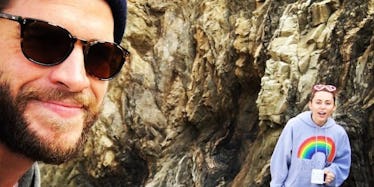 Miley Cyrus Posted An Adorable Photo For Liam Hemsworth And Fans Are Swooning
Instagram
If you're looking for proof that true love really exists, look no further than Miley Cyrus' Instagram feed. Miley Cyrus and Liam Hemsworth's relationship is still the cutest, despite that whole period of time when Miley took a left turn and became less about her relationships and more about her tongue. However, based on the "Malibu" singers latest post, their romance is here to stay.
In the wee hours of LA's morning, Cyrus shared a picture of herself playing guitar on a bed with the touching caption, "Seems all I can do... is write songs about YOU..."
SHE MEANS LIAM. I KNOW IT!
I know it, because Cyrus flat-out told the world that "Malibu" is straight up about her boo-thang. Oh, and also her earring says "Liam" on it in the photo. I don't know about you guys, but I ALWAYS profess my love via earrings.
On her relationship, Cyrus told Billboard Magazine,
[People are] going to talk about me if I come out of a restaurant with Liam,' she said. 'So why not put the power back in my relationship and say, "This is how I feel'?"
She added,
I needed to change so much. And changing with someone else not changing like that is too hard. Suddenly you're like, 'I don't recognize you anymore.' We had to re-fall for each other.
Looks like the dynamic duo has officially "re-fell." Hemsworth has been slowly sneaking Cyrus onto his own Instagram feed, recently sharing an adorable, black-and-white selfie of the two celebs on a couch. He captioned the photo, "My little angel and I."
I know. I KNOW.
While Cyrus and Hemsworth have called their engagement back on after putting a halt to things in 2013, they seem to be in no rush to get to the altar. For now, it looks like they are happily living the celebrity dream with their dogs, famous friends, and successful careers in Malibu.
Not bad.