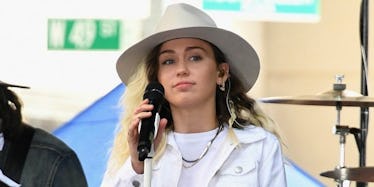 Miley Cyrus Dropped Her Album's Tracklist & The Songs Sound So, So Romantic
Getty Images/Dimitrios Kambouris
Can September 29 come soon enough? Miley Cyrus' Younger Now album tracklist dropped and the songs sound so amazing and romantic. If her new music is anything like "Malibu," fans can expect to listen for some more sweet lyrics about Liam Hemsworth. On Monday, Sept. 18, Cyrus shared the official list of songs for her new album on Instagram story. According to the post, the tracklist will be:
"Younger Now"
"Malibu"
"Rainbowland" (featuring Dolly Parton)
"Week Without You"
"Miss You So Much"
"I Would Die For You"
"Thinkin'"
"Bad Mood"
"Love Someone"
"She's Not Him"
"Inspired"
Fans have already heard the first two songs off the album and the last, but the rest of the list will be a huge surprise for everyone. As you can see, many of the song names sound super emotional. I mean, come on: "I Would Die For You," "Miss You So Much," and "Week Without You"? "Love Someone"? Miley Cyrus is gonna make me sob. Is this an entire album dedicated to her love for Liam Hemsworth? A girl can dream, can't she?!
Cyrus' lyrics for her hit single "Malibu" were very sweet and obviously about her main man. One lyric even read, "I never would've believed you if three years ago you told me I'd be here writing this song." Cyrus has opened up about the lyrics and her love for Liam with an interview for Billboard magazine. She told the publication,
They're going to talk about me if I come out of a restaurant with Liam ... So why not put the power back in my relationship and say, 'This is how I feel'?
Very true, Miley, very true. Ever since the couple called off their engagement years ago, the world has been fascinated with their rekindled flame. If you take a look at either of their Instagrams, it's clear the two are head over heels for each other. However, let's not get too carried away with their love. The 24-year-old singer recently admitted to The Sun she has no wedding plans with Liam Hemsworth just yet:
I don't envision marriage. I'm 24. I hope I get to live a little bit more. I have too much living to do [before I get married].
OK, OK, the two are taking things slow. Who can blame them? Instead of planning a wedding, it looks like Miley would rather spend her time writing love songs about her bae. HONESTLY, I'M COOL WITH IT. I need new material to cry to at night.
Besides Liam Hemsworth, 14-year-old girls on Twitter, and well, me, I'd say Billy Ray Cyrus is Miley's next biggest fan. Back at the Billboard Music Awards, the proud father told Elite Daily about his excitement for "Malibu" and Miley's upcoming album:
I love 'Malibu' and Miley's album… When I listen to it, I hear a lot of her roots. I hear a lot of the influences that I heard her playing as a little girl… you know, that she would… back in the day, maybe put on a CD as we were driving back and forth to the set of 'Hannah Montana' and she would be playing, you know, Eddie James and Johnny Cash… and all these great artists that a lot of kids at that time weren't listening to… I hear a lot of those influences in what she's doing now, and I'm loving it.
You heard it from the man himself: Miley's new Younger Now album is gonna be straight fire. The full album comes out Sept. 29, 2017, so be sure to bookmark that date in your calendar and hit up Spotify/YouTube/whatever to hear her new tunes.
CAN'T WAIT TO CRY MY EYES OUT!