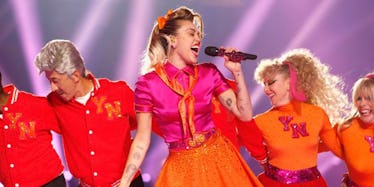 Miley Cyrus Reveals How "Younger Now" Is About 'Hannah Montana' & We're Freaking Out
Randy Shropshire/MTV1617/Getty Images
Attention, Miley Cyrus fans! Cyrus released her catchy new single, "Younger Now," which is all about embracing your age and all parts of yourself. Cyrus is taking this opportunity to revisit every phase of her career, including her breakout role as Hannah Montana. Remember that amazing Disney Channel show? Hannah Montana is the show that put Miley Cyrus on the map back in 2006. Who wouldn't love a show about a teenage pop star who keeps her identity secret by using a disguise on stage? It's literally the best idea, ever. So, what does "Younger Now" mean, and what does it have to do with the Disney Channel character?
On Aug. 27, 2017, Cyrus stormed the stage at the VMAs with yet another unforgettable performance. This time, Cyrus performed her new single "Younger Now" in a totally unexpected way. Dressed from head to toe in country glam style, Cyrus was seriously channeling her fabulous godmother, Dolly Parton. Unlike past performances by the pop sensation, this performance was heartfelt, with background dancers of all ages (and I do mean all ages) dancing like they weren't a day over eighteen. Miley's performance at the VMAs brought a sense of self-pride to the artist. Cyrus told MTV,
Now I can be proud of all the Mileys that I've ever been, instead of trying to run away from the 11-year-old one or feel like I'm not Hannah Montana. I am stoked that that was a part of my life.
She is fully embracing her Hannah Montana side and proving age is just a number. In other words, she's a total badass. When the "Younger Now" music video dropped in Aug. 2017, fans speculated over the Hannah Montana similarities. The choreography even resembled the Hannah Montana moves from "Hoedown Throwdown." Although everyone assumed the references were intentional, Cyrus denied the claims. She said,
Even though I wasn't intentionally trying to reenact something I had already done, it just naturally happened, because that's a part of me too.
Aww. We miss you, Hannah. We love you, Miley.