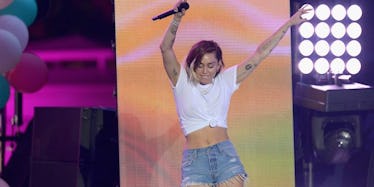 Miley Cyrus Performed Her New Song At The VMAs And It Was Perfect
Jason Koerner/Getty Images
Since the dawn of time, there has been one universal truth known to all men and all women: The MTV VMAs invented legendary performances. Everybody who owns a television set or has access to the internet knows that the awards show has generated some of the most iconic moments in pop history. I mean, Beyoncé's pregnancy announcement during "Love on Top"? Flawless. Lady Gaga's bloody "Paparazzi" spectacle? Epic. Britney's "I'm a Slave 4 U" snake? PUT IT IN THE MoMA. That being said, I'm happy to announce we can add Miley Cyrus's performance at this year's VMAs to the list.
During tonight's show, Queen Milez took to the stage for the first time since her VMAs hosting gig back in 2015 to remind us why we adore (no pun intended) her so much. Ms. Montana Cyrus treated us to a remixed version of the title single "Younger Now" from her forthcoming album Younger Now and the aesthetic for the performance certainly did not disappoint.
Miley came out looking like a '50s dream in a fuschia onesie and cat eye sunglasses and SHE. DELIVERED. THE. VOCALS. I mean she's always been a great performer, but this year's VMAs really reminded us what Miley can do with her voice.
The pop star was accompanied on stage by dancers of all ages, all of whom looked like they were having the time of their lives. Perhaps the shining moment of the performance, though, was seeing Tish and Billy Ray Cyrus  boppin' in the audience like some proud-ass parents (at least it was for me).
Of course, this isn't Miley's induction into the VMAs Hall of Fame — not even close; in fact, this was pretty tame for her. Who could ever forget the star's duet (can you even call it that?) with Rob Thomas at the 2013 VMAs? Or her dragalicious show closing performance of "Dooo It!" in 2015? Exactly... legends only. You can say a lot about Miley, but she definitely knows how to keep our attention locked on her whenever she's performing. She even HILARIOUSLY tweeted at her father earlier tonight before her performance because she's a self-aware pop majesty.
Here's to hoping we'll get plenty more amazing Miley performances in the year to come once her new album is out because our queen is back, y'all.