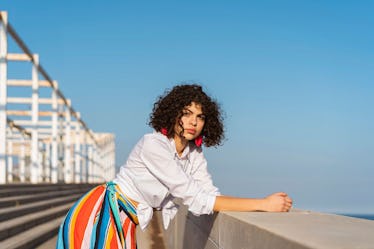 These Last-Minute Summer Getaways From NYC Will Trade The Skyscrapers For New Sights
It's very likely that the last thing on your mind right now is the end of summer. After all, the sunniest season of the year is just beginning, and you prepped your oversized tote with all the essentials, like, last weekend. You stocked up on sunscreen, sandals, and breezy sundresses that'll make an appearance on social media more than once. You even bought an extra air conditioner for your apartment because, let's be honest: It gets sticky in the city when the temperature hits over 70 degrees. But, I double dog dare you to start thinking about and planning the last-minute summer getaways from NYC that'll trade those skyscrapers for new sights.
Before you know it, it's going to be August, and you'll be wondering where the weekends went. You'll be hanging in your kitchen, whipping up a fresh fruit smoothie, and texting your besties messages like, "Oh my god. This summer flew by. We never ended up going to Montauk!" They'll instantly respond with disappointed face emojis, sad memes, and GIFs of your favorite sitcom characters frowning. One of your besties — likely the optimistic one — will send a message like, "There's always next year!"
That's very true. Waiting months to have an adventure outside of the bustling streets and subway stations already sounds like the worst, though. You'd rather make the most of the time you have now, and go on a last-minute getaway. Can I suggest these five? Sweet!