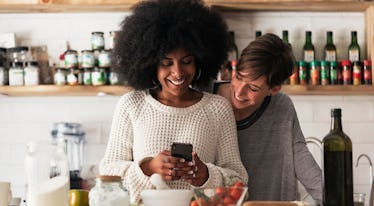 5 Last-Minute Date Ideas For Valentine's Day, So You & Bae Can Make The Most Of It
Get excited, because the most romantic day of the year is already right around the corner. If you're feeling the pressure and having a hard time planning something special for you and your partner, these last-minute date ideas for Valentine's Day are exactly what you need. V-Day can be stressful, but even if you feel like you have to plan some extravagant, fancy date weeks in advance, don't freak. Stay true to yourself, even if it means doing something low-key with the person you love. That's the whole point, isn't it?
Valentine's Day doesn't have to be anything other than what you and your partner want it to be. If you want to just stay in and do nothing, it's totally fine to do just that. If you want to treat Valentine's Day just like any other holiday where you eat great food and spend quality time together, that's OK too. Because no matter how much money you want to spend, where you want to go, or how long you've been together, there are tons of ways you and your partner can make the most out of this Valentine's Day, even if you make last-minute plans. Here are some ideas to get you started.
This article was originally published on