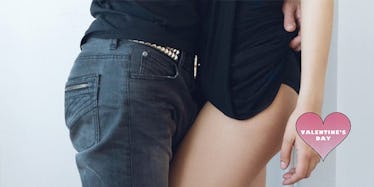 The 5 Hottest Sex Positions For Steamy Valentine's Day Sex, According To An Expert
Sonja Lekovic
Valentine's Day is not only the day for LOVE (contrary to the beliefs of the prim and the prude).
No, this day is for hot sex, you dirty, little minx! There is no sex like Valentine's Day sex, you know?
And I'm not the only who feels that way. According to Elite Daily's own Valentine's Day reader survey, only 14 percent of women and 6 percent of men don't care about having sex with their partner of Valentine's Day.
That means the rest of us — the MAJORITY of us — are chomping at the bit to get ~down~ and ~dirty~.
The trouble is, how the hell do you get on in a different way on Valentine's Day? I mean, we have every single day of our lives to have typical, missionary-style sex in the bedroom.
Valentine's Day is the time to try something new! Shake it up! Get weird!
Valentine's Day is the time to try something new! Shake it up! Get weird!
Lucky for you kinky kittens, I reached out to Jacq Jones, sex educator and the owner of Sugar, a fab sex toy store in Baltimore (but you can shop online here), to give us some supremely SEXY and wildly creative sex positions for V-Day sex:
Your fave position in a ~naughty location~
Jones says,
Make the bedroom off limits for a bit. Have sex in the living room, the bathroom, the hallway — what ever works (without [terrifying] the kids or the neighbors). Changing the location makes things feel different and new!
I have to say, I'm a big fan of the kitchen table, personally! Something about being surrounded by that colorful fruit bowl really gets me going.
Cozy, spooning sex
Spooning is great for lazy girls who are obsessed with intimacy (like me).
Jones explains,
Try spooning. Spooning can feel super intimate. And it creates penetration with less depth. Sometimes, not going in very far increases the intensity in two important ways. The head of the penis has the highest concentration of nerve endings. Less depth puts increased friction on the head. Plus, it increases the pressure on the G-spot. Start slow, and think of it as a massage for the G-spot. Spooning also leaves room for you or your partner to add in some clitoral stimulation.
Legs straight up in the air
Jones says having your legs straight up in the air during sex can really make it HOT AF:
Put those legs up! Putting your legs up in the air pulls your partner in and creates deeper, firmer penetration. Deeper penetration stimulates different nerve endings!
I'm all about that ~deeper penetration~ life, babe. So yes, I'll be trying this out.
Doggy style with some extra ~vibes~
Doggy style is one of the prime positions for me to have an elusive, G-spot orgasm, but Jones recommends adding a vibrator to make it even hotter!
I'm down!
She says,
Add a vibrator to doggy style. Take your favorite wand vibe (like the Magic Wand), put it on a pillow and grind up against it while you're receiving penetration. Not only will you receive vibration, but your partner will, too!
Match your breathing and slow it down
This one sounds perfect for the keyed-up New Yorker. And Jones says,
Take your favorite position, and slow it down. Breathe. Look each other in the eye. Match your breath together. Don't speed up until you absolutely can't take it any more.
Now that's my idea of ROMANCE!