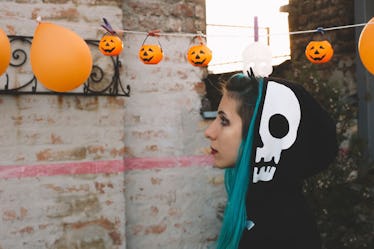 5 Last-Minute Costumes You Can Make With Beer Boxes That'll Win Halloween
"You snooze, you lose." Well, at least that's what your older siblings always told you on Halloween. One of your parents used to take all of you trick or treating around the neighborhood. You dressed up as ghost, a witch, or something else particularly spooky. And your brother was dressed up as an Olympic candy collector — or at least, so it seemed. He rushed up to every door, snagging the biggest and best candy bar in the basket. You always got exactly what you wanted, too. But, he couldn't help rubbing it in your face that he got to the doorbell first. Now, you're looking for some last-minute costumes you can make with boxes you already have in your house, with that same phrase in mind. Don't worry: Natural Light figured out what you're going to be, so be prepared to win that costume contest, too.
Yes, you read that right. Thanks to the community of Natty Light lovers, you're going to have a costume that's hilarious and stands out in the crowd. (Phew! You were worried about that for a second back there.) If you're 21 or over, then you may have had some sips of this beer before. What you didn't know is that the box that's still laying around can be used for a costume. Just pick up a pair of scissors, a marker, some tape, and get into that crafty mindset, OK?