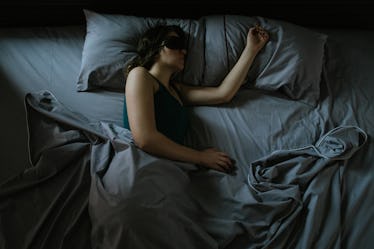 5 Hacks To Fall Asleep Instantly That Are All Backed By Science
Life is pretty hard in general, but I find sleep to be one of the most difficult things to do. Personally, it's really not the staying asleep I find to be the main issue; it's the falling asleep part that usually causes me grief, because more often that not I simply struggle to do so, tossing and turning while totally wide awake. In 2018, my big plan is to start trying hacks to fall asleep instantly that have at least a little bit of science behind them. This way, I can see if I really am as hopeless a case of insomnia as I sometimes worry I am.
Now, is there really a foolproof, one-size-fits-all way to do anything in this world, let alone fall asleep instantly? I'm inclined to say no, there isn't. But since, according to the American Sleep Association, 50 to 70 million adults in the U.S. adults suffer from a sleep disorder, it's pretty important that those of us who need a little extra help turning down for the night try whatever we can to remedy the problem. As I'm sure you know, a lack of regular, rejuvenating sleep can really, really take a toll on your health, not to mention your mood.
So, who's with me, hopeful sleepers? Try some of these sleep hacks below tonight while you're trying to catch some Zs, and with any luck, we'll all be on our way to dreamland in no time.