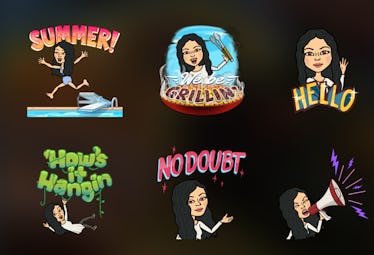 These GIF-like Snapchat Features Will Help You Make It Through GIF-less Times
If you find yourself using Snapchat more often than not (especially during these still-frigid spring days), you've probably noticed that there is so much more you can do with your Snaps beyond simply trying all the Lenses. Turning yourself into a puppy or donning a butterfly halo is reason enough to have the app on your phone, but the ability to take your Snaps to the next level with features like Animated Stickers and Bitmojis is what keeps you glued to the app throughout the day (yeah, you're not the only one). Recently, though, one of Snapchatters' favorite features was removed from the app. Never fear, you can keep your Snaps and Stories as cool as ever when you use these five GIF alternatives for Snapchat.
As you may or may not know, GIFs have been taken off Snapchat until further notice. Personally, GIFs are my favorite form of phone communication, so I definitely poured one out for all the Ryan Gosling "Hey Girl" faces that would never grace my Snaps again (unless they come back — let's cross our fingers). After I responded to the GIF news in a totally normal and not at all overly dramatic fashion, I realized it was time to move on.
Thankfully, Snapchat is here to help everyone keep on keeping on in a GIF-less Snapchat world. In an email from Snapchat to Elite Daily, the company offered these totally comparable features that might even make you forget your current longing for GIFs.