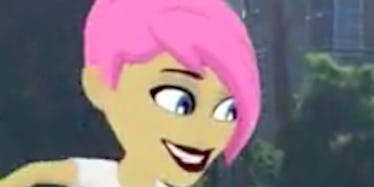 You Need A Bitmoji To Have Fun With Snapchat's New Lens, Here's How To Get One
Snapchat / Bitmoji
You might be familiar with Bitmoji as the adorable animated version of yourself that you send to your friends when words just won't cut it. Well, get ready to have even more fun with your miniature doppelgänger when you use Snapchat's World Lenses. You'll need to make sure you have your Bitmoji at hand to get in on all the 3-D action, though, so read on to learn how to change your Snapchat Bitmoji.
If you haven't yet taken the time to create a Bitmoji, now is the perfect opportunity to head over the App store and download the Bitmoji app, because Snapchat has created the coolest lenses that you do not want to miss out on. The first order of business is creating your own Bitmoji, which is essentially an animated version of yourself. You get to choose your face shape, skin color, and body type, and then you can add glasses or headwear. It's pretty cool because you can even choose different line animations on your face for your nose shape and cheeks. There are makeup and lip color options to finish of the look, and by the time you're done, you'll be pleasantly surprised with how similar the likeness is.
Once you've created your own Bitmoji and picked out your fave outfit from the app, you're ready to start having some fun with Snapchat's new World Lenses. In order see your 3-D Bitmoji in your surroundings, you'll want to make sure that you've updated your Snapchat app. Once you do that, the Bitmoji will appear on the screen, and you can unlock the newest lenses by tapping the rear-facing camera screen and finding the different scenes in the lens carousel.
When you've chosen the scene that you think your Bitmoji is currently feeling, you just tap it in the lens carousel, and then watch as your animated self does yoga, plays guitar, or perks up with some coffee. So far, there are five scenes to choose from, and when your Bitmoji is in one, you can move them around and resize them how you'd like. To take a video, you just have to hold down the record button and your Bitmoji will follow wherever the camera goes. Once you're done recording, you can post it to your story for all to see, or you can send personalized videos to your Bitmoji bestie.
If you're thinking that you can't wait to spend all weekend seeing what your Bitmoji can do with World Lenses, then you are in luck. Snapchat will release the update globally tomorrow, Sept. 15, to Snapchat lovers using iOS and Android.
Since you still have to wait for the new World Lens fun, you can spend that time making sure your Bitmoji is in tip-top shape for his or her future Snapchat adventures with the newest lenses. If you haven't refreshed your Bitmoji's look in a while, then now is the time. The wardrobe choices are even better than ever.
If you're still waiting for payday to get that new fall wardrobe shopping spree in, you can have a virtual try-on session in the Bitmoji app. There is a grunge Steve Madden look complete with combat boots and a flannel tied around the waist that I cannot wait to replicate once my bank account gives me the go-ahead. Seriously, the dress-up fun in the app can be a bit addictive (in the best way), so don't say I didn't warn you.
So, make sure you charge your phone all the way up tonight so you can wake up tomorrow, update Snapchat, and try your best to get any work done as you turn into the director of Bitmoji short films.
Check out the entire Gen Why series and other videos on Facebook and the Bustle app across Apple TV, Roku, and Amazon Fire TV.