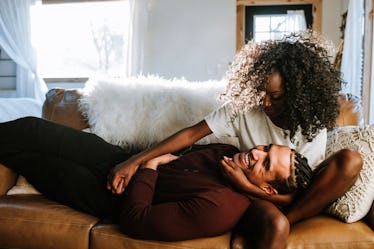 5 Ridiculous Sex Injury Stories You Have To Read To Believe
Sex-related injuries are truly something else. Every time I find myself in the middle of one, my first panicked thought isn't, "How do I fix this?" It's literally: "Now, how am I going to explain this?" The other day, I hit myself in the face with my wand vibrator, hard handle-end first. I was blessedly OK. But I had actually busted my lip or chipped my tooth? A major L, since it literally would have just been the result of my chronic lack of coordination and eagerness to get off. Another of my favorite funny sex injury stories is when my girlfriend and I made jalapeño cornbread, got hot and heavy later that night, and were reminded in the worst way possible that we had baked jalapeño cornbread. I took the baby L, called her mom (who's a nurse), and soothed my clit's burning by dabbing a bit of milk on it. There are a lot of foods that are good for vaginas, but I was shocked and delighted that it was milk that came through for me.
I put out a call to my friends, peers and Instagram mutuals for their own funny sex injury stories to help me feel less alone, and the stories I got back were intense. (I did want to differentiate between funny sex injury stories and the not-so-funny ones. Because rug burn and hair pulled a smidge too hard are way different than more serious sex injuries, like vaginal tearing — please lube up! — or broken bones from slipping during shower sex.) And without further ado, here are five funny sex injury stories that made me both cringe a little and warmed my heart.