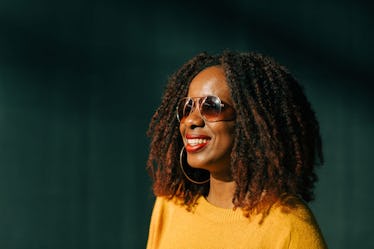 Bring A Little More Sunlight Into Your Life By Making These 5 Easy Changes
While I'm absolutely thrilled to gain an extra hour of sleep when the clocks fall back on Nov. 4 for Daylight Saving Time, I'm not looking forward quite as much to the shortened hours of sunlight that winter will soon usher in. Perhaps you've already noticed the darkness starting to creep in earlier and earlier in the evenings. Personally, as someone who loves sunshine more than almost anything, I know I'm going to miss the long, languid days of summer sun. Luckily, though, there are a few easy ways to get more sunlight in your life and take advantage of every beautiful ray the sky has to offer, even in the cold, dark depths of winter.
I don't know about you, but I used to think that on overcast days, there was basically no point in spending time outside because the sunlight was mostly hidden behind the clouds. But, according to Cosmopolitan, dark clouds still allow about 32 percent of the sun's rays to peek through, while white clouds let in as much as 89 percent of the sun's light.
So even if it looks a little dreary outside, pull your work BFF out for a walk to a nearby coffee shop, or buy a couple of herbs to grow on your apartment balcony. Once you start being mindful about soaking in the sun as much as possible, it'll be that much easier to make these tips part of your regular routine.