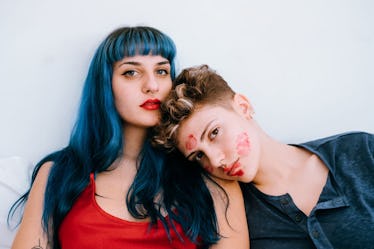 5 Completely Valid Reasons Hookup Culture Isn't For You
When it comes to factors that define the millennial lifestyle, it's hard to overlook hookup culture — apart from taking selfies and updating your Instagram story, casual encounters are one of the most common components of being a 20-something today. And the more that this notion becomes normalized, the more challenging it becomes to reject it. But what if you don't like the idea of getting intimate with someone sans emotions? What if you prefer commitment over carefree flings? There are plenty of legit reasons hookup culture isn't for you.
For starters, you're not alone. While it may be easier than ever to keep it casual — thanks to the aforementioned normalization of hookup culture and a steady stream of dating apps that facilitate securing a one-night stand — that approach certainly isn't for everyone. While some may view it as downright liberating, others find that it can fuel some pretty complicated and uncomfortable feelings.
Of course, there's the practical pitfalls involved — a greater number of partners may increase your risks of contracting STDs and STIs, meaning you have to take some extra precautions every time you get frisky. But there are other considerations that go beyond your physical health, too. In fact, there are many valid reasons to hate hookup culture. Here are a few that might resonate with you.