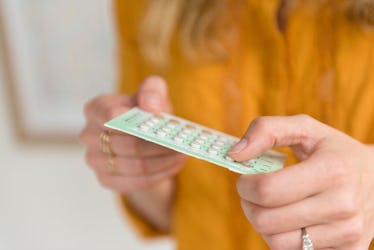 5 Benefits Of Hormonal Birth Control, Because There Are Many Perks
One of the most obvious reasons to go on hormonal birth control is to prevent unwanted pregnancy. And while these birth control methods are super effective in that regard (99% when used perfectly, according to Planned Parenthood), that's not the only advantage they can provide. In fact, there is a bevy of other benefits of hormonal birth control, and I'm here to straight-up sing their praises.
See, I've been on (and off) the pill since I was 15 years old. One of the many perks that I've grown to appreciate is that it makes my periods super regular. Gone are the days when I have to run to the bathroom, paranoid that Aunt Flo has come to town a few days early or later than usual. Now, I can pretty much predict the time of day I can expect my period to come (FTW!).
There are two types of hormonal birth control, both of which contain a synthetic form of the naturally-occurring hormones produced by your body — combination birth control features both estrogen and progestin, and progestin-only contains no estrogen. As it turns out, 58% of women on the pill take it partly for non-contraceptive reasons, and about 14% take it solely for reasons that have nothing to do with preventing pregnancy, according to 2011 research from the Guttmacher Institute. And it's no surprise when you consider that hormonal birth control methods are convenient, easy and safe for most women to use, relatively inexpensive (with health insurance coverage), and are also quickly reversible (with the exception of the Depo Provera shot).
Intrigued? Whether you're considering going on hormonal birth control or are simply seeking even more justification for your prescription, here are some other slightly lesser-known benefits.