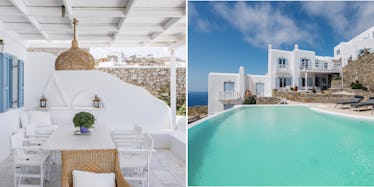 5 Airbnbs In Mykonos For Your Bestie's Bachelorette Party & The Most Epic #Views
When it comes to your bestie's bachelorette party, you and the rest of the bridal crew have something epic in mind. It requires passports, plane tickets, and checking a major item off of your bucket list. You want to take the bride-to-be to a dreamy island in Greece where she can soak up the saltwater, stick her toes in the sand, and enjoy the beautiful #views from one of these Airbnbs in Mykonos.
Don't worry, because I have a few in mind that'll make you want to hit the "book" button right away. First, though, I want to talk about your itinerary. Are you going to sign up for snorkeling at the nearby beach, or go shopping in town for an afternoon? Are you going to relax by an infinity pool, or explore the island and channel your inner adventurer?
Personally, I hope you make time for everything and make memories that are worth putting in a frame as you go. That's what will truly take this bachelorette party to the next level, and prepare your bestie — the bride-to-be — to say, "I do." Now, confirm your stay at one of these Airbnbs in Mykonos, because they have all the beautiful views and vibes.