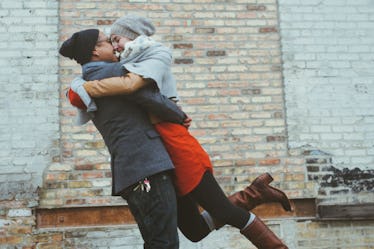 5 Instagram Captions For Your First Valentine's Day Together That Will Attract More Heart Emojis Than Eye-Rolls
Your first Valentine's Day as a couple is pretty momentous: It sets the tone for how you and your boo will express your appreciation of each other, whether romance means writing a heartfelt card, indulging in a five-course meal, or surprising them with tickets to see their favorite band. And since the relationship is pretty fresh, you're probably eager to brag about it on social media. The only challenge? Figuring out the perfect 2019 Instagram captions for your first Valentine's Day together. You know — the kind that's likely to attract more heart emojis than eye-rolls.
Obviously, IG will be peppered with photos of couples on Valentine's Day. Your feed — and everyone else's — will be flooded with bouquets of flowers, staged kisses, and elegant dinner spreads. That doesn't mean you can't post something to acknowledge your love, however. It's just a matter of crafting that perfect caption that's cute without being cheesy — one that stands out from all the rest. Whatever you write, it should fully capture how you feel about bae, but it should also be short and sweet. More importantly, it should make your followers instinctively go, "aww!" (and maybe, just maybe, make them feel a little bit jealous).
Strapped for ideas? Don't fret. Here are some creative captions for boasting about bae on your first Valentine's Day together.