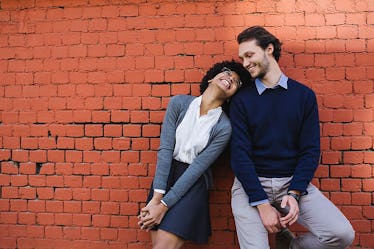 25 Valentine's Day Instagram Captions To Show Off A New Relationship
There are lots of reasons being in a new relationship is awesome. Every kiss, every touch, every moment you spend together feels like a new adventure. But one of the very best parts of being cuffed up with someone new is celebrating a holiday together for the first time — especially Valentine's Day. So of course you want to memorialize this moment by posting a pic on Insta, right? Finding just the right image to show off your new love is a struggle on its own, but maybe even harder is writing Valentine's Day Instagram captions for a new relationship that capture the magic of what you have with your new boo.
There are lots of ways you can go with this caption. Pick a lyric to a song that means something to the two of you. Quote a line from your favorite romantic movie. Get literary with a line from your favorite book. Or write something original that perfectly encompasses how you feel together. Still not sure what to say in the caption? No worries. I've got you covered. Here are a whole bunch of ideas that you can use word for word, or to spark some inspiration, when you post that oh-so-important pic on Feb. 14.
1. "I got 99 problems, but finding a 💖 Valentine 💖 ain't one." — Unknown
2. "All of me loves all of you." — John Legend
3. "I love you to the moon and back. 🌙 " — Amelia Hepworth
4. "You are my person. 💑 " — Unknown
5. "Happy V-Day to the person whom I love more than pizza. Yeah I said it 👨>🍕=💗" — Unknown
6. "I wish I had done everything on 🌎 with you." — The Great Gatsby
7. "This one right here, yeah, they're mine. 💑" — Unknown
8. "The greatest thing you'll ever learn is just to love, and be loved in return." — Moulin Rouge
9. "Whenever I'm alone with you, you make me feel like I am home again." —The Cure
10. "You can't blame gravity for falling in love." — Albert Einstein
11. "Happy Valentine's Day to my significant otter." — Unknown
12. "Love is friendship that has caught 🔥🔥🔥." — Ann Landers
13. "Love isn't something you find. Love is something that finds you." — Loretta Young
14. "I used to think that Valentine's Day was 🌽 AF — then I met you. 😍 " — Unknown
15. "Love is just a word until someone comes along and gives it meaning." — Paulo Coelho
16. "Love, kisses, and Valentine's wishes. 💋💋💋 " — Unknown
17. "It is a curious thought, but it is only when you see people looking ridiculous that you realize just how much you love them." — Agatha Christie
18. "Valentine's Day looks great on us." — Unknown
19. "You are my greatest adventure." – The Incredibles
20. "Happy first (of many) Valentine's Day together, babe! 💘💘💘" — Unknown
21. "All you need is love. But a little chocolate now and then doesn't hurt." — Charles M. Schulz
22. "Happy Valentine's Day to the first person who has ever made me want to celebrate this scam holiday." — Unknown
23. "All I need today is you... and chocolate... and wine... but mostly you. Happy V-Day!" — Unknown
24. "Every day with you is like Valentine's Day. 💝" — Unknown
25. "Happy Valentine's Day to the one I never knew I always needed." — Unknown
Feeling inspired? At the end of the day, the perfect caption is the one that expresses how you feel about each other every day, and not just on Valentine's Day.
Check out the entire Gen Why series and other videos on Facebook and the Bustle app across Apple TV, Roku, and Amazon Fire TV.
Check out the "Best of Elite Daily" stream in the Bustle App for more stories just like this!