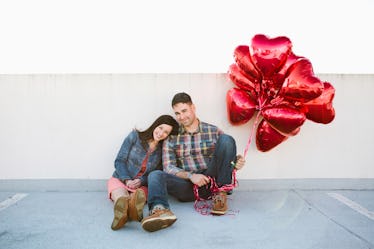 20 Sweet Instagram Captions For Your Inevitably Cheesy Valentine's Day Couple Pic
If you live in the Northeast, sweating in February is rarely an issue... with the exception of one day. You know the one: Valentine's Day. The Hallmark holiday dedicated to celebrating love can feel more like a day of pressure, stress, and avoiding feeling like a loser... and that's if you are in a relationship. Figuring out if you both want to celebrate, what the perfect gift for your SO is, where to dine (i.e. which restaurant still has reservations available), and thinking up Instagram captions for Valentine's Day all factor in to the seemingly innocent 24-hour window. I'm perspiring at the thought.
Sure, Instagram might seem like the least of your concerns when you have so much to worry about... like, how does a box of chocolates cost that much? And should you profess your undying love over a candlelit dinner, or is that cheesy AF? I mean, these are real concerns, people. However, we live in the age of social media, and it's totally acceptable to admit you're already sorting out which outfit will look the cutest and with which filter. (Or should I #nofilter? Guys?!)
Worry as you will, this is still a time to appreciate your SO and let them know just how much they mean to you. Take a deep breath, and let the icy, winter air cool you down. I'll start by taking one thing off your $75+ per head plate (damn you, prix fixe pricing) with Instagram captions that work for all couples pics, from the sarcastic to the full-blown romantics.
1. "You don't need to ask us to get a room. 🗝😏" — Unknown
2. "On Valentine's Day, life really is like a box of chocolates. The best parts are what's inside. ❤️️🍫" — Unknown
3. "If love is blind, why is lingerie so popular?" — Unknown
4. "Valentine's Day is better when you love someone. It means you get to show your face in public. 🤣" — Unknown
5. "I wish I had done everything on Earth with you." —The Great Gatsby
6. "Ugh. Valentine's Day. 😉" — Unknown
7. "I ditched my Galentine's for this. 👯" — Unknown
8. "Some people say Valentine's Day is cheesy. I say, bring on the fondue for two. 🧀" — Unknown
9. "Valentine's Day got me lookin' so cheesy in love." — Unknown
10. "You warm my heart, even on the coldest nights." — Unknown
11. "Can you feel the love tonight? " — Elton John
12. "Are the ✨ out tonight? I don't know if it's cloudy or bright. I only have eyes for you dear. 😍" — The Flamingos
13. "The greatest thing you'll ever learn is just to love, and be loved in return. 💞" — Moulin Rouge
14. "In the eternal words of Phoebe Buffay, he's my lobster." — Unknown
15. "I'm glad I didn't die before I met you. But now I don't care. I could go anywhere with you, and I'd probably be happy." — Bright Eyes
16."If you live to be a hundred, I want to live to be a hundred minus one day so I never have to live without you." — A.A. Milne
17. "You are my 🔥, the one desire." — Backstreet Boys
18. "If you're a bird, I'm a bird. ❤️️🐦❤️️" — The Notebook
19. 'The minute I heard my first love story, I started looking for you, not knowing how blind that was. Lovers don't finally meet somewhere. They're in each other all along." — Rumi
20. "Whenever I'm alone with you, you make me feel like I am home again." —The Cure
Check out the entire Gen Why series and other videos on Facebook and the Bustle app across Apple TV, Roku, and Amazon Fire TV.
Check out the "Best of Elite Daily" stream in the Bustle App for more stories just like this!