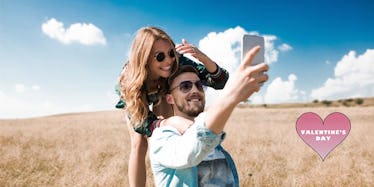 All Of The Annoying Couples You'll See On Instagram This Valentine's Day
It's Valentine's Day, and you know what that means... ugh, no.
I'm not talking about a handwritten love poem from your BAE delivered to your office alongside a giant bouquet of flowers, ya big sap.
I'm talking about plenty of Instagram posts from happy couples who are totally in looooooooove.
Whether you're in a relationship or not, whether you LOVE Valentine's Day or you absolutely hate it... it doesn't make a difference. Your news feed is about to undergo a hostile takeover today, and it's important to be prepared.
Today, every single one of your timelines is going to be a lot of sappy, heartfelt posts of every couple you've ever known. And it, without a doubt, will be jarring.
Elite Daily's Valentine's Day reader survey found that a lot of men (28 percent) and women (21 percent) simultaneously feel a little bit of AWW and a little bit of EWW when they come across Valentine's Day posts on their Instagram feeds.
That's a COMPLEX mix of emotions! You shouldn't have to go into that unprepared! But don't worry. I've got you covered.
Before you have to brave your Instagram feed filled with mushy, gushy confessions of love, let me give you a little test run of every single kind of couple-y Insta post you'll possibly come across today:
The obnoxious PDA couple will post a kissing pic.
And it will make you gag a little more over the phone than it does in person. (Yep, not as impossible as we previously anticipated.)
The couple that just moved in together will post a cute cuddling-in-bed selfie.
This will teeter between making you smile and making you vom, depending on how much they choose to shield our eyes from their bare bodies by covering up with sheets.
More than one couple will get engaged and post an announcement pic.
Valentine's Day proposal?! So original!
The newlyweds will post yet another pic from their wedding.
And you'll consider unfollowing them.
The couple who still drinks like they're in college will post a funny drunk pic.
They could also, obviously, still actually just be in college. Either way, you'll laugh and shoot them a like.
The annoyingly hot couple will post a vacation pic.
And you'll wonder how they can afford to take these lavish vacations while you're just trying to figure out whether or not you can afford your Netflix account.
The basic-but-kinda-funny BFFs will post a "funny" pic of them professing their love for each other.
Hah! OMG, so relatable.
The couple who's been together forever will post a throwback.
And hopefully, it'll be a really awkward, weird one of them at prom with braces and botched fake tans.
The less-hot member of that couple that literally makes no sense to anyone will post a picture of the other person with a sappy caption.
The caption will go something like this:
Not #WCW yet, but had to give this very special lady a shoutout on Valentine's Day. No idea what I did right in life to deserve someone as amazing, wonderful and beautiful as you, but not a day goes by that I don't thank the universe for leading me to you, sweet, beautiful baby girl. Happy Valentine's Day to my angel and my everything who I love not just today, but EVERY DAY. #pookiebear #loveyou #soulmates #myheart #mysoul #myeverything
Don't get me wrong. This could be cute if he, like, privately texted it to her. But he didn't. So it's not.
The boring, basic couple will post a boring, basic picture from a previous date night.
YAWN.
All right, time to open your social media apps and start roaming your news feeds freely.
You are now officially ready to handle ANYTHING Valentine's Day has to throw at you.