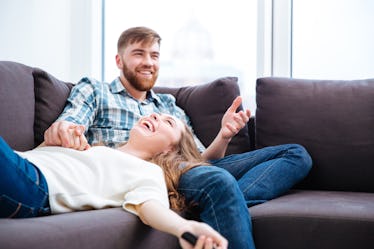 The 4 Zodiac Signs Who Are The Most Chill To Date Make So Much Sense
Shutterstock
Back in college, when guys would ask me if I wanted to "chill" with them, it was hard not to laugh in their faces. It's impossible for me to "chill" with anyone because I have no chill. I'm a Scorpio, buddy. I'm so intense that I'll decide what you're thinking before you even do. I'll strike when you least expect it. I've been known to burst into tears when I can't find my phone.
When it comes to zodiac signs who are the most chill to date, Scorpio is not one of them. Even if I had a dollar for every person who has ever told me to "chill out," I couldn't pay someone enough to put up with my drama. (Shoutout to my Libra husband for doing it for free.)
I'm not saying that signs that tend to be chill are better or more desirable to date than those who are not. But if you do happen to be a sign that approaches dating with a laid-back attitude, chances are that you'll be spared from some major headaches (and perhaps your date will as well). If you're one of these zodiac signs, then you were basically born to be calm, cool, and collected with dates.