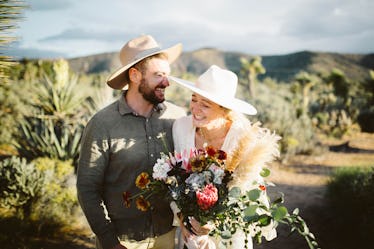 3 Zodiac Signs Most Likely To Be Chill Brides, Every Step Down The Aisle
After dating, engagement, and months of wedding planning — the day has come to tie the knot. Whether you've been planning your dream wedding since childhood or you're known for being a little, ahem, particular about the way you like things, your wedding day may not be the most relaxing time of your life. However, if you tend to go with the flow or you've never really been into planning the little parts of big events, you may be one of these three zodiac signs most likely to be chill brides.
From enjoying time with your guests to just wanting to eat good food and dance, there are plenty of reasons a bride may keep their wedding day on the mellow side. Of course, it's also important to note that wanting your wedding day to go as planned or getting a little tense before tying the knot is totally OK too. Whether you exchange vows in jeans and flip flops or you want your wedding day to be a black tie affair, your special day can look like whatever makes you and your boo feel the most comfortable.
Here are the three zodiac signs most likely to be chill brides.