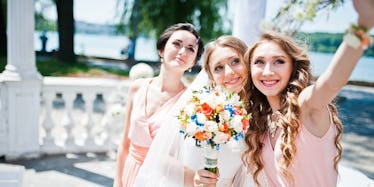 9 Chill Bachelorette Party Ideas Every Introvert Will Fall In Love With
AS Photo Project/Fotolia
While getting married can be tons of fun, it can also be tons of stress. Even the fun things, like planning an epic bachelorette party, can get to any bride. Luckily, every bride has (or should have!) a team of bridesmaids by her side to help take on some of the responsibilities of wedding planning. As the ceremony gets closer, an introvert bride will undoubtedly have a lot on her plate. While wild and sexy bachelorette parties can be tons of fun, sometimes a bride just wants to chill with her besties before her big day. And if you're a self-proclaimed introvert, the bachelorette planning process can feel — and be — a little overwhelming.  Hey, even if you'd rather go out and hit the town from morning till night, having a list of bachelorette party ideas for introverts on deck means that you always have a little something for everyone who's heading to the party.
So if you're looking for some inspiration for a chill bachelorette party for an introvert bride, look no further.
1. A Camping Trip With Your Girls
Spending a night or two in nature can bring some peace and quiet into a time of utter chaos. If sleeping on the ground isn't your thing, try your hand at "glamping," which is basically camping with a little more glam. It's totally fitting for a bride.
2. Spa Day
Relax with your girls at a spa for some much-needed pampering before your big day. You'll be treated like the queen you are while you finally getting the chance to unwind. It's basically a stressed bride's dream come true.
3. An Old-School Sleepover
It's totally classic and totally fun. You can do whatever you want in the comfort of your own home, whether that includes watching movies, playing strip poker, or getting tipsy with your girls. You can't go wrong with a bridal party slumber party.
4. Have A Bob Ross Painting Party
Even just the thought of Bob Ross promises something meaningful and happy. Take a trip to the craft store to buy what you need, grab some snacks and the girls you love, and paint the night away with the help of your favorite art teacher. Alcohol is optional, but for some good laughs and awful paintings, why not?!
5. Take A Cooking Class
Learning how to be the next Julia Child can be a lot more fun when you're learning with your bridal party. You'll probably learn something that will come in handy at some point in your life, or maybe you'll discover a new hidden talent. Plus, you can do it all with a glass of wine by your side. It's a win-win. Oh, and let's not even talk about all the Instagram opportunities.
6. A Road Trip With Your BFF
If you're not up for an actual bachelorette party, take a trip with a friend or two. As long as you know when you have to be home, you don't even need to plan a Thing — with a capital T. Enjoy the moment with your friends and see where the open road takes you.
7. Have A DIY Party
Not only is being crafty tons of fun, but you can be productive, too. If your wedding ceremony needs some more decor, spend some time making it with your bridal party. If you want to pick up a fun new hobby, or just have a day where you chill and do whatever you want, go for it. In the end, it'll save you money, time, and a lot of stress when the big day comes.
8. See A Musical
This can require a little more money, but it involves a lot less planning. Especially if you're near a big city, there can be several options of musicals to choose from, so have the bride do some research to figure out what she likes and what she wants to see. (Or, surprise her!) Once you've bought tickets, all you have to do is get dressed and go.
9. Dinner And A Movie
Sometimes, date night with the girls is exactly what you need. It's chill and easy, which is perfect for a break before a bride's big day. Look up some movie times, research some restaurants, and let the bride decide.