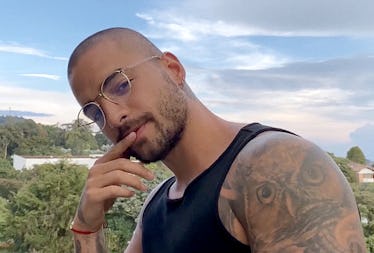 If You're One Of These 4 Signs, You'd Totally Vibe With Maluma
Getty Images/Getty Images Entertainment/Getty Images
The best way to describe Aquarian men? A little strange and a whole lot of wonderful. They're a little offbeat and hella mysterious, but ultimately sweet and laid back — and Maluma, born on Jan. 28, is no exception. Naturally, you may be curious as to which zodiac signs are compatible with Maluma. Aquarian men are a little quirky and secretive, but ultimately, they're easy-going dudes, so they're not too hard to please.
They like to march to the beat of their own drum and will applaud you for the doing the same. They're unconventional to a tee, which is why you often see them in creative fields like acting. They also have big hearts and will stand up for the social causes they believe in deeply.
When it comes to sex and dating, Aquarius is basically the embodiment of the friends-to-lovers trope. They like to make sure they're 100% comfortable with a crush, and that their crush is 100% cool with their Aquarian quirks and habits. Once they know the good vibes extend beyond that initial flirtationship, they're all in. Here are the four signs best fit to get caught up in a slow-but-steady, all-encompassing, Aquarian romance with Maluma baby.