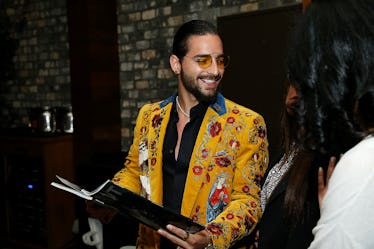 A Brief History Of Everyone Maluma Has Reportedly Dated, & It Looks Like He's Very Private
Phillip Faraone/Getty Images Entertainment/Getty Images
You can learn a lot about a person by looking at their dating history. You can learn about their taste in partners, what they're drawn to, and from Maluma's dating history, you can learn he has a pretty definite type: musician and/or model. Of the three women the 24-year-old Colombian singer has been reportedly romantically connected to, two are singers, and his current girlfriend is a DJ and a model.
While some stars and public figures are all for broadcasting every single one of their relationships for the world to see (thanks for that, guys), Maluma seems to be the exact opposite. Of his three past rumored and confirmed relationships, the one he's been the most vocal about on his social media and in interviews is his current squeeze, Natalia Barulich. But before their relationship, he didn't say much about the rumors surrounding his love life. Honestly, I respect it, despite wanting to know every little thing about my favorite celebrities' lives. (IDK why I'm like this, OK?!)
No matter how many fans ask questions (hi, me), celebs deserve to have their own lives outside of the spotlight. But that doesn't mean we can't wonder who else has been a part of this pretty boy, dirty boy's dating life.