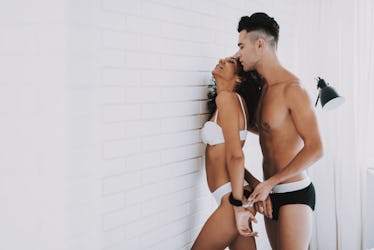 4 Tips For Talking To Your Partner About Bringing A Toy Into The Bedroom
Shutterstock
From learning more about your body's erogenous zones to adding some extra stimulation, a little sex toy can go a long way. Though you may enjoy some solo time with your favorite vibrator, adding a toy into partnered sex can add some extra fun for everyone. If you're thinking of trying something different between the sheets, these tips for talking to your partner about using sex toys in the bedroom will really let the good vibes (and vibrators) roll.
"While sex toys are awesome for solo-sex, they're not exclusively relegated to masturbation," Gigi Engle, certified sex coach, sexologist, and author of All The F*cking Mistakes: A Guide to Sex, Love, and Life, tells Elite Daily. "We have to stop boxing our sexual playtime into corners. Sex toys are for every kind of sexual play and can be used in so many ways to enhance partnered sex." At risk of sounding like a barefoot frat boy at a Dave Matthews concert, I'm all about maximizing the #goodvibes.
And if you're looking to add a little something-something to your sex life, these four tips for talking to your boo about inviting your favorite toy to the party may really come in handy.