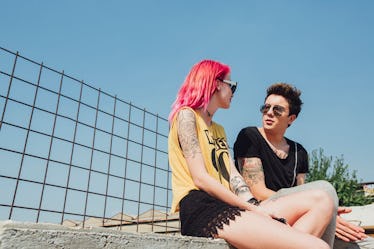 4 Things You'll Notice If Your Partner Is Growing Out Of Your Relationship & Wants More
Even when a relationship starts off strong, maintaining forward motion as a couple can be hard. Both you and your partner may continue to evolve individually, and sometimes, your relationship can evolve right along with you. But even though sometimes it seems like growth has the potential to bring a couple closer, it could also end up tearing them apart. Even though the things you'll notice if your partner's growing out of your relationship might be painful to acknowledge, avoiding the issue could lead to more pain and confusion later down the line.
We are all on our own individual journeys in life, but a solid relationship can bring a lot to the table. That said, it can be difficult to realize when a relationship is no longer serving both parties involved for the better. Sometimes, two people change more than they could've anticipated and the partnership just doesn't work as well as it once did. If you've found yourself feeling a disconnect between you and your SO, it could be that one of you has begun to outgrow the relationship. If your partner's the one who seems ready to move on, the following warning signs could mean your 'ship is headed toward some choppy waters.