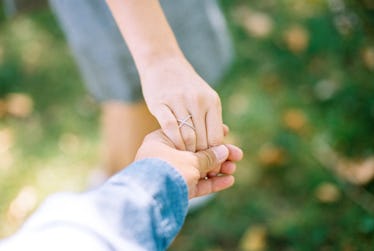 4 Signs You're Growing Out Of Your Relationship With Your College Sweetheart
If you're in a relationship in college, there are certainly a lot of perks. You always have a go-to date for formals, a study buddy during finals, and another home to visit during fall, winter, spring, and summer breaks. You also have someone to make meals with, take naps with, and binge Netflix with. But four years can certainly change a person, and you and your partner might not necessarily evolve in the same way or at the same pace. It's possible to grow out of your college relationship, and if that's the case, it's OK to part ways around the same time you walk across the graduation stage.
Trust me, I've been there. I know what it's like. Leaving a stale relationship at the end of college was one of the best possible decisions I could've made for my own personal growth. It might be for you, too.
Consider everything you can do as a single person post-grad: jet off on a solo trip without taking another person's schedule into account; meeting and dating people who show you a whole new way of life; exploring who you are without the pressure of a relationship weighing you down.
There's no shame in walking away from a partnership that isn't best suiting your needs right now — and your future self will potentially be grateful that you had the courage to put yourself first at this crucial time in your life. Below, here's how to determine if your relationship might have run its course.