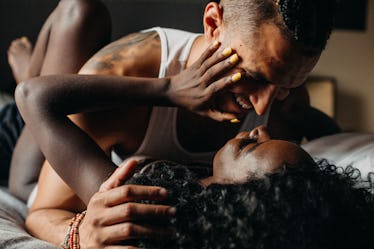 9 Women Describe What Good Chemistry Feels Like To Them, Because It's Not Universal
Being in a relationship doesn't have a one-dimensional definition. Two people who are meant to be together might not always have an automatic connection, or experience love at first sight. Relationships are complicated, and no two couples are exactly alike. So, if you've never been in what's been commonly categorized as a "fireworks" relationship, then you might be wondering what good chemistry feels like. Honestly, good chemistry can mean different things for different people. Chemistry is so incredibly special, because it's unique to each couple.
I believe my fiancé and I have great chemistry, but our chemistry differs vastly than that of my friend and her partner. For me, good chemistry usually means that when my fiancé is working as a firefighter, I'll get goosebumps thinking about what we'll do when he gets home. It's the little butterflies I still get when he looks me in the eye and puts his hands around my waist.
That being said, every couple and relationship is completely subject to their own standards of chemistry. There's no reason to compare your relationship to anyone else's. However, if you're wondering what good chemistry can look and feel like, then search no further.
Below, see what nine real women on Reddit who are lucky enough to have experienced good chemistry with their partners have to say.