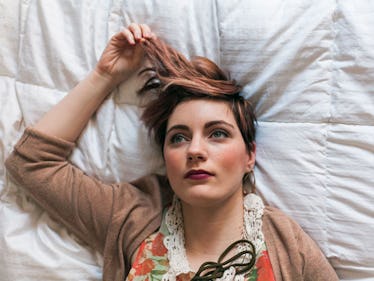 4 Signs You're Not Being Challenged By Your Relationship & What To Do About It
There are many different ingredients that come together to make a relationship successful in the long term. Being in a relationship with someone who pushes you to be the best version of yourself can be the difference between an OK relationship and an amazing one. The signs you're not being challenged by your relationship may or may not be easy to pick up on, because the truth is that not everyone wants or needs to be in a relationship that pushes them to evolve.
"Some people value stable and peaceful relationships that do not challenge them, others value relationships that help them grow (and with growth, there are always challenges)," intimacy coach and sex therapist Irene Fehr tells Elite Daily.
So, if you're sitting there wondering if something is wrong in your otherwise great relationship because you don't feel challenged, the answer isn't necessarily black or white.
"How important it is to be challenged in a relationship depends on your values," explains Fehr.
If you find yourself noticing the following things in your relationship, then it could be that you and your partner aren't facilitating each other's personal growth as much as you could be. And it's up to you to decide if that's something that feels necessary for you.