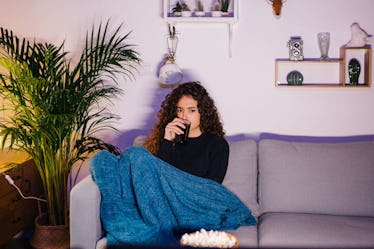 Your To-Do List Will Be Way Less Boring If You Watch Netflix While Doing These 4 Things
Let me be honest: There's not much I'd rather do than spend the night snuggled up on the couch watching Netflix as long as my heart desires. I don't usually feel too guilty about this, besides the fact that, whenever I feel like watching The Great British Bake Off or The Office, whatever I had on my to-do list for the night tends to go right out the window. Relaxation time is definitely important, but if you're trying to decide whether to be productive or just chill, why not tackle some things you can do while watching Netflix? That way, you won't have to choose just one way to spend your time.
Whether you decide to harness the nervous energy you have from watching Making a Murderer to fit in a couch workout, or you simply prefer to opt for a relaxing drawing session while you enjoy a peaceful nature documentary, you'll be able to enjoy your TV time without having to worry about wasting your night away.
Of course, if you're really set on not doing anything with your hands during your Netflix time, invite a friend to come over and watch with you so that you can catch up and bond over a show that you both love. But if it's just you, here are a few ways to feel just a little more productive while you watch your favorite shows.