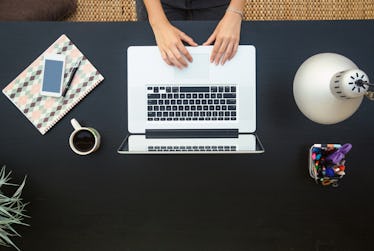 Here's How You Can Feel More Productive When It Seems Like Nothing's Getting Done
Every once in a while, you have one of those days when it seems like quite literally nothing is getting done, no matter how hard you feel like you're working. It might be due to some bureaucratic red tape, or it could just be the result of a gnarly hangover. Either way, you're stuck in the middle of a day that feels like it'll never end, and pretty soon, it becomes unbearable. When you're feeling mind-numbingly stagnant, the best way to jumpstart your motivation is to come up with little ways to feel productive that are doable, but not too intimidating.
Productivity is, what I like to call, an elusive mistress: The harder you try to catch her, the farther away she feels. But if you stop worrying about the end result, and instead, simply focus on the tiny little steps you should be taking to be productive in the present tense, then you'll start to see a chain effect, and you'll be reaping the benefits in no time.
Or, you won't. Honestly, some days turn out to be a wash, but that doesn't mean you shouldn't try to make little wins and gains along the way anyway, right? Here are five little ways to feel more productive, even if you're experiencing the least productive day in human history.