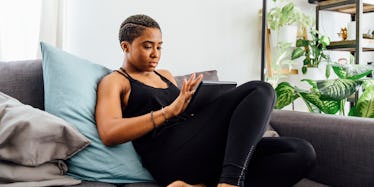 These 6 Arm Workouts Can Be Done Right On Your Couch, Even When You Feel Lazy AF
You know those days when you come home from a long day at work, plop down on the couch, and immediately lose any and all motivation that you may have had to do a full workout? It happens to the best of us, but just because you've made the executive decision to morph into couch-potato form for the night, that doesn't necessarily mean you can't exercise whatsoever. In fact, there are actually a few arm exercises you can do on the couch for the lazy workout of your dreams — but don't be fooled. Just because you can do these workouts while you watch the entire first season of Queer Eye from start to finish, doesn't mean it's not hard.
When it comes to moving your body and adapting to a healthier lifestyle, the smaller, seemingly insignificant things can actually add up and make a big difference in helping you feel your best, inside and out. Including a few, low-key arm exercises while you're lounging on the couch is certainly better than doing no workout at all, and like I said, I'm willing to bet these workouts are way harder than you might assume.
The coolest part about this lazy arm workout is that it doesn't require any equipment at all. Try these six arm workouts that you can easily do while your butt is parked on the couch and your eyes are fixed on your latest Netflix obsession.