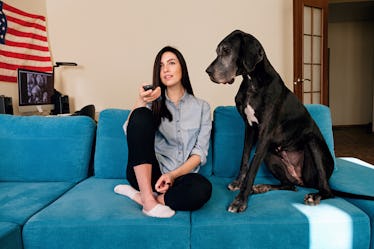 These 6 Workouts Can Be Done Right On Your Couch, & Yes, They Do Count As Exercise
Ever have that feeling when you're watching the Olympics like you should be working out, or at least stretching, but in reality you're just laying around eating chips? Yeah, me neither. But if you do ever feel that pull to work out when you're just lying around at home, yet simply cannot get out of your comfy pants, worry not. I have the solution for you, and it involves workouts you can do on your couch.
Say what!? Yes, friends, it may sound like the newest development in laziness, but in reality, you can get your heart rate up and your strength training on absolutely anywhere, even your own living room. And while it might seem like it's not enough to "count" as exercise, trust me, you'll feel the fatigue. And remember, any kind of movement is exercise, and any kind of stretching or shaking you like to do is rad, no matter where you are.
So, during the next commercial break while you're waiting for those incredible figure skaters to grace your TV screen again, challenge yourself to get in a few reps so you can stay on top of the Winter Games while also getting a good workout in. And let's be real, home workouts are really where it's at.