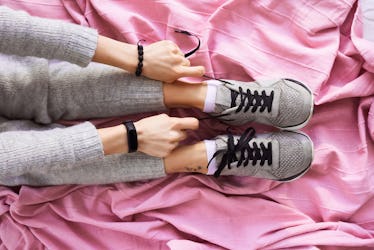 These Workouts Are So Lazy, You Don't Even Have To Get Out Of Bed To Do Them
Getting out of your warm, cozy bed to hit up the gym is a struggle and a f*cking half. Seriously, there are times when the thought of parting from my favorite fuzzy pillow legit makes me nauseous, especially when it means entering an overcrowded and way-too-sweaty fitness center. Luckily, it's pretty easy to beat the system and bask in all of your slothful glory with some lazy workouts to do in bed. And, I know it may not seem like it, but these exercises will actually make you feel like you did something productive for the day.
Honestly, bed is bae. And the way I see it, it's pretty freaking rude to part with something that literally does nothing but keep you warm, safe, and cozy every damn night (or day, if naps are your jam).
So, in the name of embracing every ounce of your inner laziness, by all means, stay in your bed as long as possible, fam. Take comfort — both literally and figuratively — in the fact that you don't even have to sacrifice your physical fitness while you indulge in your laziness, because there are actually so many workouts you do right atop your mattress.
Try these 10 bed-friendly workouts so that the next time someone starts throwing major shade your way when you said you stayed in bed all day, you can confidently say that you were lazy in the most productive way possible.