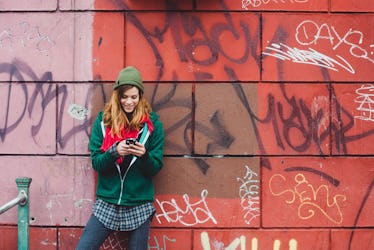 4 Texts To Send Your Crush To Make Plans When "WYD" Isn't An Option
Inevitably, when I think back to my initial text exchanges with my current boyfriend, a not-so-subtle smirk creeps over my face. Every message was sent with such deliberation, such care. The major concern, of course, was locking down plans to see him again — all while maintaining a cool, casual exterior. Real talk: Crafting the perfect texts to send to your crush to make plans isn't easy.
While agonizing over how to make sure that we linked up in person, I recalled a tidbit of info he mentioned during our last conversation: his dad was in a band, and they had a gig coming up. And to my delight (full disclosure: I legit squealed this detail to my BFF later), he had nonchalantly mentioned that I should hear them sometime. So I mustered up the courage to send him a simple text: "Hey, I think you said your dad's band is playing this month — when is that happening again? Want to get it in my calendar since work's been crazy." That gig turned out to be a pivotal event: afterward, he drove me home and we talked in his car until 5 a.m. — and then we eagerly made plans to hang out again the following weekend. The rest, as they say, is history.
Here's the thing: Making a move via text may not seem like the bravest way to ask someone out, but undoubtedly, it's a tad less intimidating than asking them out IRL. And luckily, there are so many creative ways to get a date in the books right from your phone. Here are a few of my foolproof favorites.