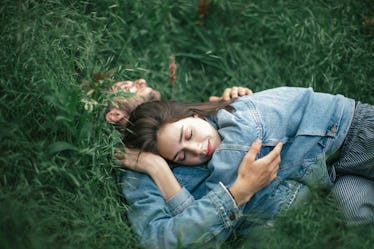 4 Signs Your Significant Other Loves You Unconditionally, So Breathe Easy
"Come just as you are to me / Don't need apologies … There is no fear now / Let go and just be free." These lyrics from Katy Perry's smash hit "Unconditionally" pretty much sum up what unconditional love is all about. It's a kind of love that allows you to be honest and true to yourself, even when that means making mistakes and revealing your ugly parts. And let's be real — we all have those. But how do you know when you've got it? What are the signs your significant other loves you unconditionally?
First off, it's important to distinguish unconditional love. Signs that you're falling in love with someone include feeling a feeling of security and attachment — and of course, that tell-tale rush that's unlike any other high. But unconditional love is a specific kind of love that comes with its own unique signals. As the name suggests, it is love with no conditions. In other words, there are no "ifs" or "buts." It's just love in its purest, most complete form. I mean, does it get any more romantic than that?
Unconditional love is sought-after because it gives us a sense of security. When someone loves us unconditionally, we know that we let our guard down and be authentic without having to fear intense judgment or criticism — or worse, abandonment. We can allow ourselves to be vulnerable — and vulnerability breeds intimacy. Wondering whether your partner loves you unconditionally? Relationship expert April Masini says to look out for one of these telltale signs