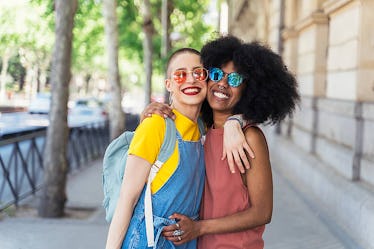 4 Signs Your Partner Will Always Have Your Back No Matter What
One of the many perks of being in a strong relationship is having someone who will always be there to support you. Life is full of ups and downs, so it's important that your partner is someone you can count on. The signs your partner will always have your back might seem obvious, but it's never a bad idea to triple-check that your bae is all in. IMHO, it's far too easy for someone to pretend to be a ride-or-die, but when the time comes to actually be there for you, to be totally MIA. Or, over time, it may become clear that you aren't as far up on their priority list as they led you to believe.
According to intuitive dating coach and author of The Dating Mirror: Trust Again, Love Again Diana Dorell, knowing that your SO will be by your side to encourage and reassure you when necessary is a fundamental part of a healthy relationship. "It is very healthy to expect a partner to be supportive," Dorell previously told Elite Daily. "That is what partnership is all about." If your partner does the following things, then chances are, you've got a really awesome SO in your life who you can always trust to have your best interest at heart.