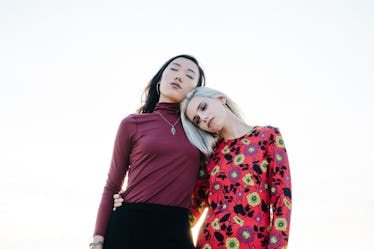 If Your Partner Isn't Being Supportive Of You, Experts Suggest Approaching Them Like This
My partner is my biggest cheerleader — and I am theirs. I wouldn't have it any other way. After all, what's the point of being in a relationship if you can't count on them to have your back against the world and lift you up when you need it? But while we've got the whole supportive thing on lock now, it hasn't always been that way. There have been failures and successes over the years, but we always knew what to do when your partner isn't being supportive: Speak up about it.
Here's the thing: While more communication is a great solution to this problem, knowing that you have to talk to your partner about needing them to be more supportive and knowing exactly what to say are two totally different things. It can be nerve-wracking, especially if you feel particularly uncomfortable being vulnerable, or if you think they may get defensive before they've even heard you out. It can definitely be a tricky one. So, to help navigate the conversation, I reached out to the experts to ask for their advice on how to broach the subject of being more supportive with your partner. Here's what they had to say.