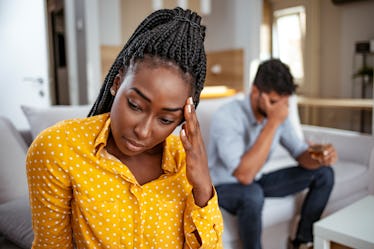 4 Signs Your Live-In Partner Might Want To Break Up
ljubaphoto/E+/Getty Images
Moving in with your partner isn't just something to check off a list of relationship milestones. It's a move that can completely change the dynamic between you. Intimacy goes into overdrive as they see you in your most natural state — bedhead and all. They get a front-row seat to your organizational idiosyncrasies and your farts. Plus, you're tasked with navigating and negotiating everything, from how you'll make your bed to paying rent. The last thing you probably expect is for your relationship to end, but if you're getting the sense that your partner wants to break up after moving in, you're going to want to address it ASAP.
Coming to terms with the fact that your relationship is going downhill never feels good, especially if you live together and have to deal with your partner's negativity and your own doubts every single day. This situation can also be extremely saddening, because chances are, you moved in together because you saw a future together. (About 55% of adults see cohabitation as a step toward marriage, according to a 2019 study from the Pew Research Center.) Whichever way you slice it, breaking up with someone you live with can not only be emotionally devastating, but also, super complicated. Who moves out? What happens to your lease? How do you split your furniture? Who gets to keep the dog?
I spoke to Damona Hoffman, certified dating coach and host of the Dates & Mates podcast, about the signs you'll notice if your live-in partner wants to break up and what you can do about it. Here's what she says to be on the lookout for.