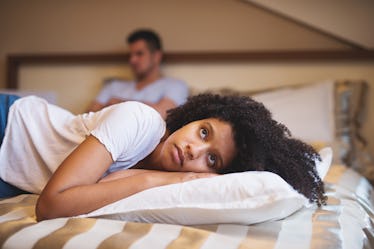 When Your Partner Wants To Break Up, Experts Say This Is How You'll Know
I hate breaking up with someone. I think I actually dislike it more than being broken up with, because I can't bear to see people's hurt feelings. As a result, I have stayed in relationships way longer than I should have. Inevitably, having gone way past their expiration dates, the relationships soured and ended on a far uglier note than they needed to. What I'm saying is, I'm pretty familiar with how to know when your partner wants to break up because I've been there — on both sides of the equation.
While it's never fun to suspect that your partner is ready to exit the relationship, there is some solace and power in at least seeing it coming and knowing how to face it head-on. If one thing is worse than being broken up with, it's being completely blindsided by it. But the good news is you can help prevent that by recognizing the signs that your partner's heart just isn't in it anymore. To help learn more about those signs, I reached out to an expert in the field: Trina Leckie, breakup coach and host of the breakup BOOST podcast, who shared which signs you should be on the lookout for if you suspect your partner is ready to call it quits.