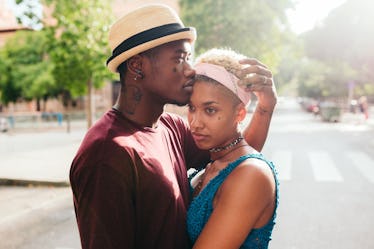 4 Signs You Need To Slow Down Your Relationship With Your Partner, So Pump The Brakes
"It's only been five months, and she's talking about moving in with him. Isn't that a little fast?" Amanda, one of my BFFs, asked while expressing concerns over a mutual friend's new relationship. TBH, I didn't know how to answer. Who was I to judge? My current boyfriend met my mom a month after our first date. Relationships move at different paces for a variety of reasons — age, lifestyle, work obligations, and romantic history, to name a few. But still, there are some signs you need to slow down your relationship that are worth looking out for.
"Research about mutually happy, long-term couples show that each person is on the same future emotional track," LeslieBeth Wish, licensed clinical psychotherapist and relationship expert, tells Elite Daily.
Unfortunately, that's not always the case — sometimes, one person is eager to forge ahead, while another is being a bit more cautious, for whatever reason.
"It's not unusual for you and your partner to be on different emotional timetables," explains Dr. Wish. "After all, you each brought your unique dating histories and experiences from your childhoods."
So, how can you tell if your relationship is moving too fast? Here are some telltale signs that you and bae may need to pump the brakes a bit.