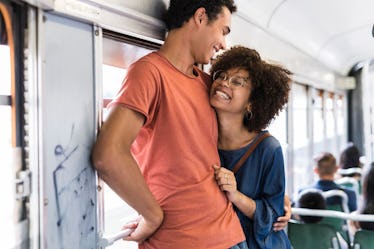 4 Relationship Resolutions To Make In 2019 That Will Bring You & Your SO Even Closer Together
A new year presents the perfect opportunity to improve in many areas, whether that means eating healthier, sweating it out more, pursuing your passions, or being more productive at work. But while you're trading the Kit-Kats for kale and streaming those educational podcasts, you might also want to consider some relationship resolutions to make in 2019, too. In other words, take a step back and consider how you can be a better partner.
What might you be doing now that's having a negative effect on your bond? Better yet, what can you do to make the relationship stronger? Taking responsibility for your role in the relationship is super important. Maybe it's something as simple as committing to saying "thank you" more to your boo. Or maybe it's a long-term goal to work on improving your conflict resolution strategies so you can keep small disagreements from blowing out of proportion. Whatever you choose to work on, there's hardly a better way to kick off a new year than resolving to make some positive changes for you and your partner.
Whether you've just started seeing someone new or have been dating your boo for years, here are some relationship resolutions to consider that could potentially bring you closer in 2019.