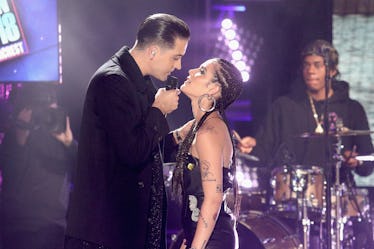 4 Halsey & G Eazy Costume Ideas For You To Rock This Halloween
Frederick M. Brown/Getty Images Entertainment/Getty Images
I always panic whenever Halloween comes around. I know I'm supposed to dress up as something interesting, but I much prefer to go as another human so I can buy actual clothing rather than costumes I'll only wear once and toss. This year, famous on-again, off-again couple Halsey and G-Eazy are at the top of Halloween costume search lists and I think they're a perfect fit. Their style is unique enough that it'll be easy for your friends to recognize who you're supposed to be, and their looks include sweet staple pieces I'd like to add to my wardrobe anyway. It's a win-win. Here are some great Halsey and G-Eazy costume ideas that will help you trick or treat in style, baby.
For starters, these two are fashion chameleons. The hardest part about pulling together a G-Eazy or Halsey Halloween costume is choosing which look you want to go for. Halsey is always switching up her hairstyle in huge ways and G-Eazy fluctuates between casual sweats and hardcore leather. My recommendation when aiming for any celebrity is to opt for something they wore at an iconic event where the mass majority of fans would have seen them. This includes stuff like red carpets, important performances, or note-worthy videos. Browse these Halsey and G-Eazy looks below and see what resonates with you the most.
Halsey in Her "Ghost" Music Video
For many fans, "Ghost" might be the first music video they ever saw Halsey appear in. The song is a neon romp through a nondescript city and Halsey spends the majority of the time in a cropped, cotton candy blue wig.
For fun, add her fierce red lips to steal her whole vibe.
eNilecor Short Bob Hair Wig (Blue), $17.33, Amazon
Lipstick Mini MAC in Ruby Woo, $10, MAC Cosmetics
Halsey & G-Eazy in Their "Him & I" Music Video
Two words: Black clothes. At the beginning of "Him & I" there is a disclaimer that the entire video was made by Ashley and Gerald (aka Halsey and G-Eazy) with friends in New York. So, in theory, these are their "real clothes."
Fans can opt for black leather jackets or black sweatshirts to pull off this look. Just be sure to include slick hair. Halsey wears hers in a black sleek bob and G-Eazy rocks his signature gelled locks.
Dark Matter Pullover Hoodie, $39.95, Into The AM
Warehouse Vinyl Zip Detail Biker Jacket, $47, ASOS
Moroccanoil Smoothing Lotion, $12, Sephora
Any of Their Epic Hairstyles
See what I mean about being chameleons? To me, I'd go for a funky pixie cut for Halsey and the greased slick-back look for G-Eazy, but that's my personal preference.
Halsey's also rocked curly locks and even shaved her head once, too. Here are just a few products that can help you achieve various hairstyles inspired by these two.
Bwild Temporary Hair Color Spray, $5.79, Target
eNilecor Shot Hair Wigs Pixie Cut, $16.69, Amazon
Their 2017 Halloween Costumes
I love celebrities who love a good theme! I might have once thought these two were "too cool" to dress up for Halloween, but that just shows what a judgmental jerk I am. In 2017, Halsey and G-Eazy stepped out as the iconic fictional duo Jay Gatsby and Daisy Buchanan from F. Scott Fitzgerald's magnum opus The Great Gatsby.
Sure, this one is a little meta, but ~*true fans*~ will get you.
The Great Gatsby 1920's Costume Women's Dress, $34.99, Light In The Box
Men's Jay Gatsby Costume, $79.99, HalloweenCostumes.com
If none of these feel like a fit to you, when in doubt, carry a microphone and sharpie on some temporary tattoos. Then, walk around with "Him & I" playing on your iPhone speaker to help your friends get the full picture.
Even if no one knows exactly who you are, at least you have some cool clothes and hair products now! You're welcome!