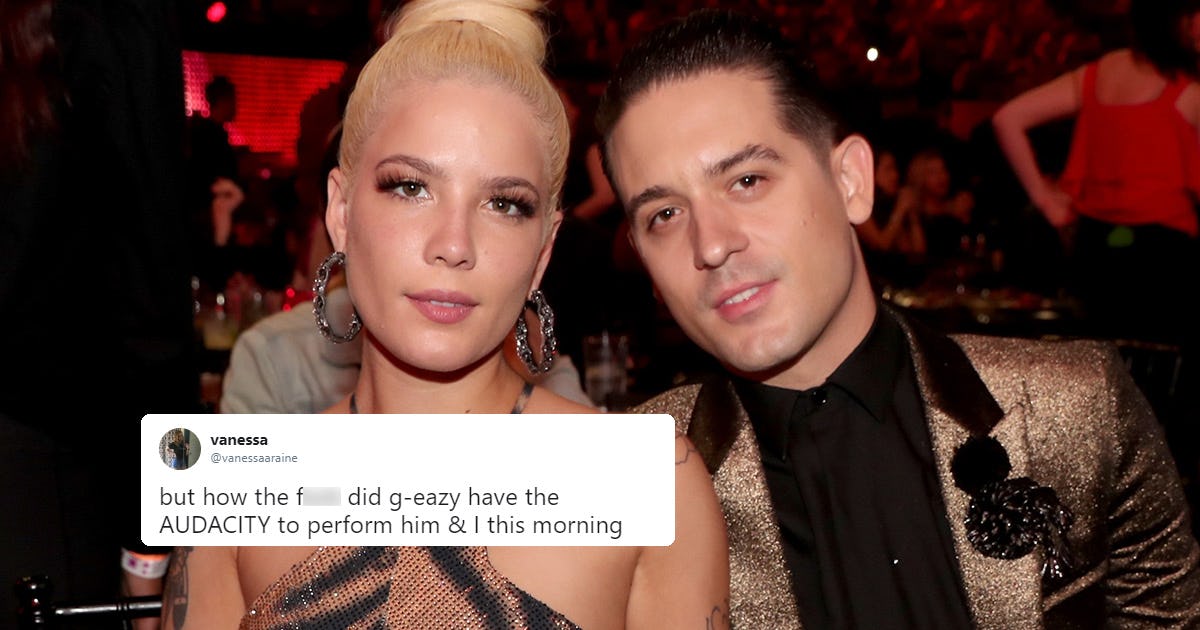 G-Eazy Just Performed "Him & I" Without Halsey Days After Breaking Up & Twitter Is Furious
Christopher Polk/Getty Images Entertainment/Getty Images
As a mundane human, it's relatively low risk for me to call in sick for a couple of days to properly mourn breaking up with my long-term boyfriend. Sadly, celebrities don't have the same luxury. When you've got a million fans who dished out tons of cash and traveled across state lines to see you perform live, you can't just call out sick because you had a bad breakup. The show must go on. So I get why G-Eazy showed up to Central Park in New York City on July 6 to perform as part of Good Morning America's 2018 Summer Concert Series. What I and his many fans were not prepared for, however, was seeing G-Eazy performing "Him & I" solo, days after breaking up with Halsey. I mean, the hit song is literally their collab together and everyone thought he would just quietly take the song off his future set lists to avoid breaking our hearts even further. But alas, he hit the GMA stage and performed "Him & I" like nothing at all was wrong and now Twitter is in a fit, because what nerve?!
Unless you've been living under a rock with no cell service or wifi for the past couple of days, you know that G-Eazy and Halsey called it quits on their one-year relationship, breaking the hearts of millions of fans around the world who thought they were #CoupleGoals. Halsey broke the news on her Instagram story on July 3, writing:
I normally keep this kind of thing private but provided our public nature I feel the need to inform my fans. G-Eazy and I are taking some time apart. I'm eager to continue the upcoming passage of time dedicating myself to my art and my career, and the duration of my tour. I wish him the best. Thanks for respecting our privacy at this time.
Halsey swiftly deleted all of her pictures with G-Eazy from her Instagram feed, so the breakup seems pretty serious.
Days later, rumors that G-Eazy cheated on Halsey began running rampant on Twitter thanks to a set of cryptic tweets the singer posted. First, she tweeted (and deleted) the scissors emoji, which fans took as a clear reference to G-Eazy's "Him & I" lyrics where he raps, "Ever catch me cheating, she would try to cut my d*ck off."
And if that wasn't seemingly damning enough, Halsey followed that tweet up with a simple tweet that says "pumpkin eater." Fans took that as a reference to the old nursery rhyme "Peter Peter Pumpkin Eater" that has been morphed into "Cheater Cheater Pumpkin Eater" over the years.
Elite Daily reached out to G-Eazy and Halsey's teams for comment on the cheating rumors, but did not hear back by the time of publication.
So, to say fans were not thrilled when G-Eazy hit the GMA stage and performed "Him & I" without Halsey is a bit of an understatement. I mean, you can watch the performance on Good Morning America's website, and to see G-Eazy flippantly rap the very line that has fans thinking he cheated is quite a thing to behold. Fans were pretty offended, and they made it known on Twitter.
To be fair to G-Eazy, nothing is confirmed about what led to his breakup with Halsey. It's entirely possible that fans are 100 percent off base about the cheating rumors.
Still, I don't think it's a bad idea to maybe lay off performing "Him & I" for a while, G-Eazy. The song is literally an anthem about unbreakable lovers by two people who fans thought would never break up. These wounds are still fresh and it's just way #TooSoon, my man. Got it? Thanks.